THE IMMUNE SYSTEM IS THE ANSWER TO DISEASE™
Boost your immune defense to fight dangerous viruses and other disease.
WATCH THE VIDEO TO FIND OUT HOW!
SUPREME IMMUNE HEALTH FORMULATM
Deca Aloe's Supreme Immune Health Formula™ is a powerful nutraceutical dietary supplement that relies on two potent, botanically sourced ingredients: organic, whole leaf Aloe arborescens, and raw, unprocessed honey. Combined, these ingredients provide an arsenal of phytonutrients, including mono- and polysaccharides, key minerals, essential vitamins, amino acids, enzymes, probiotics, and phenolic compounds.
This traditional, centuries-old Brazilian formula revitalizes overall health by rejuvenating the immune system, improving digestive function, boosting cardiovascular performance, detoxifying cells, and cleansing the bloodstream. Numerous clinical studies show this formula can address acute health conditions, and is especially effective at relieving chronic symptoms associated with systemic inflammation.
Physicians are authorized by federal law under the Orphan Drug Act of 2005 to recommend this proprietary formula as a MEDICAL FOOD for the dietary management of medical conditions. Nutritional solutions are becoming more widely accepted by informed doctors as a preferred method of gently addressing inflammatory issues without harsh medications and their potentially dangerous side effects.
(The Orphan Drug Act of 2005 defined Medical Foods and authorizes physicians to recommend them as "…a food which is formulated to be consumed or administered internally under the supervision of a physician and which is intended for the specific dietary management of a disease or condition for which distinctive nutritional requirements, based on recognized scientific principles, are established by medical evaluation…." Section 5(b) of the Orphan Drug Act (21 U.S.C. 360ee (b) (3))
PROVEN IN CLINICAL STUDIES TO HELP:
Boost the body's immune system
Promote gentle detoxification
Increase activity of white blood cells
Normalize digestive functions
Support healthy blood sugar levels
Stimulate cellular metabolism
STIMULATE YOUR BODY'S NATURAL KILLER CELLS
The Supreme Immune Health Formula™ contains critical phytonutrients that stimulates the immune system.
Natural killer cells (NKCs) attack other cells that have become dysregulated, infected with viruses, or are otherwise compromised. They are the body's way of removing potentially damaging cells from triggering conditions such as cancer.
The receptors in NKCs recognize these aberrant cells, and bind to them.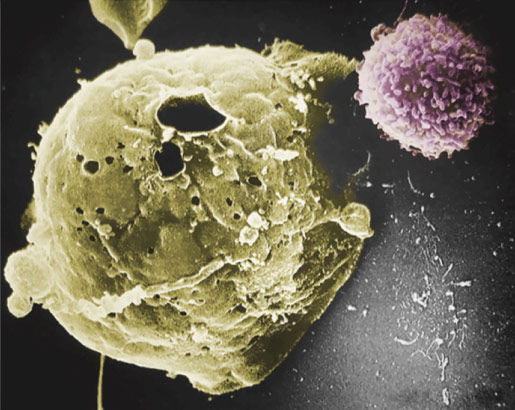 NKCs then release special enzymes that rupture the membranes of the damaged cells. When the cell wall is compromised, it deflates like a punctured balloon.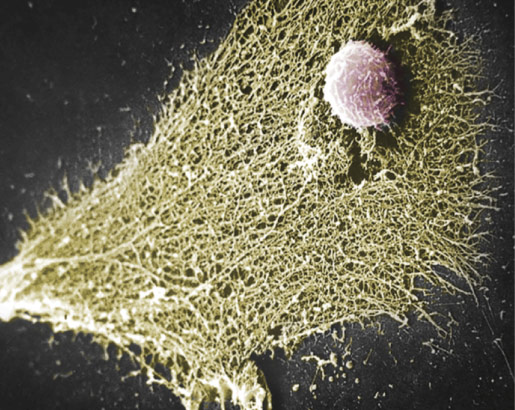 All that's left is the empty cellular matrix, rendering the damaged cells harmless.
WHY ALOE ARBORESCENS?
Aloe arborescens consists of two major active components. The first, Polysaccharides (Acemannan, an acetylated polymannan), are found in the interior, mucilaginous gel. The second, Aloin, is contained in the thick, green exterior rind of the leaf. Aloins are also chemically classified as Anthraquinones. These formidable ingredients have been reported for centuries to support virtually every vital system of the human body.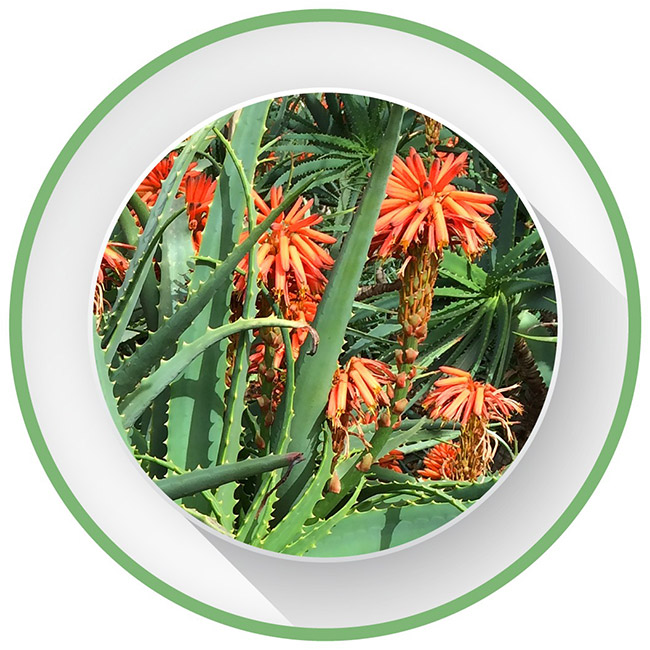 ALOE POLYSACCHARIDES
Aloe polysaccharides (Acemannan) exhibit their therapeutic properties through stimulation and modulation of the immune system. They trigger a cascade of immune responses in the body. This results in the activation of general host defenses. Promotes healthy tissue remodeling. Underactive immune systems are sped up. Overactive immune systems are calmed down.
These polysaccharides boost the body's defenses at the cellular level by stimulating a healing process called macrophage, wherein Natural Killer Cells (NKCs) seek out, bind with and destroy aberrant cells. They activate the immune response through an increased expression of defensive cytokines (interleukin-1, interleukin-6, INF and TNF). Protect bone marrow from damage by toxic chemicals and medications.
Acemannan improves cellular metabolism by normalizing cellular function, regulating the flow of nutrients in and out of cells. This results in an overall boost in energy production.
ANTHRAQUINONES
This second group of aloe constituents are chemically known as Anthraquinones. They contain potent compounds that boost the immune system in several critical ways. They promote gentle, whole-body cleansing of harmful toxins and waste (detoxification).
Anthraquinones stimulate a healthy appetite. Promote bowel regularity. Restore critical gastrointestinal bacterial flora. Accelerate intestinal motility to help normalize the structure and function of the digestive system. This, in turn, reduces stress on the immune system itself.
WHY NATURAL RAW HONEY?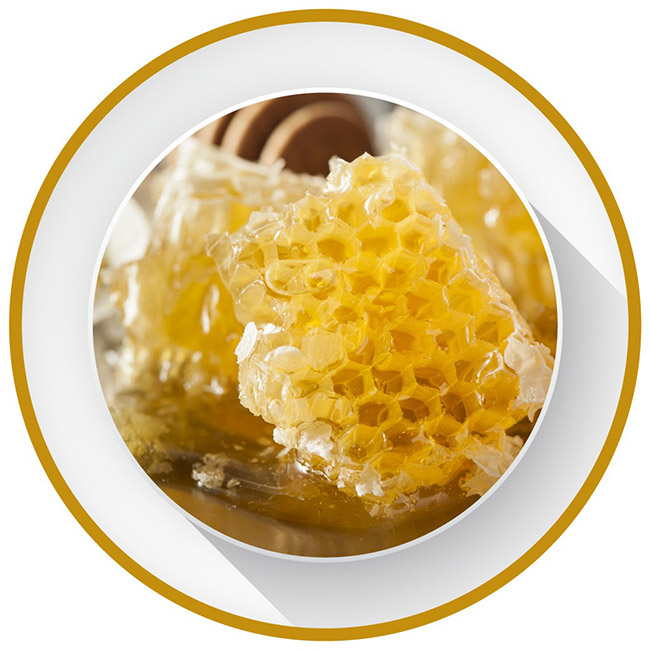 THE PERFECT DELIVERY SYSTEM
In addition to being the carrier that takes the Aloe nutrients to the remote parts of the body, raw honey also potentiates TNF activity.*
NUTRITIONAL PROTECTION
Honey protects the precious vital nutrients and therapeutic properties in Aloe juice from air oxidation and gastric juices and allows them to be absorbed by the intestinal walls.*
ANTIBODY STIMULATION
The immunomodulatory and immune-protective activity of honey stimulates antibodies, B and T lymphocytes, neutrophils, monocytes, eosinophils, and Natural Killer Cell (NKC) production.
CELL INHIBITION
Honey and its several components (like flavonoids and phenolics) are reported to mediate inhibition of dysregulated aberrant cell growth due to its regulation of cell cycles.*
WHAT DOCTORS ARE REPORTING
HIGHEST QUALITY, PRISTINELY SOURCED BOTANICAL INGREDIENTS
This rare aloe juice is produced only from five-year-old Aloe arborescens plants harvested at full maturity. They are processed by grinding the whole leaf (not just the gel inside). No heating, cold pressing or freeze drying is used. This unusual means of processing preserves the full potency of active, revitalizing components.
In contrast to the more familiar Aloe vera, Aloe arborescens is a nutritionally superior variety, providing over 200 distinct medicinal compounds that are essential for maintaining healthy cellular function.
The raw honey in this traditional formula is unpasteurized. This means the immune-boosting enzymes, minerals and nutrients remain active and potent. Because honey is the one food that does not spoil, it serves as a natural preservative, ensuring the formula is shelf stable.
PRODUCTS
Centuries-old formula addressing modern chronic illnesses available now
*FREE SHIPPING TO THE CONTINENTAL US. DISCOUNTS FOR RETAIL ORDERS ONLY.

RENEWS VITALITY. BOOST DIGESTION. IMPROVES CELLULAR INTEGRITY. PROVIDES GENTLE WHOLE BODY DETOXIFICATION. REDUCES INFLAMMATION. EXTENDS LONGEVITY. ALL AVAILABLE TODAY.