YOUR IMMUNE
SYSTEM IS THE
CURE FOR
DISEASE!
A science-based formula of Aloe
aborescens and raw honey as a
medical food nutritional supplement.
SUPREME IMMUNE HEALTH FORMULATM
Deca Aloe's Supreme Immune Health Formula is a powerful dietary supplement that brings together the therapeutic properties of two potent ingredients: organic whole leaf Aloe arborescens juice and raw natural honey. Together these ingredients provide an arsenal of phytonutrient  compounds such as Polysaccharides (Acemannan) and Anthraquinones like Aloe-emodin that are essential for the fortification and rejuvenation of optimal Immune system function.
— Dr. Michael Einsohn, DC
PROVEN IN STUDIES TO
HELP:
STIMULATE YOUR BODY'S NATURAL KILLER CELLS
The Superme Immune Health Formula™ contians critical phytonutrients that stimulate your immune system.
Natural killer cells can kil other cells that are cancerous as well as those that are infected by viruses without destroying normal cells.
Natural killer cells have receptors that can recognize cancer as well as virus-infected cells which allow to bind to them and kill them.
Natural killer cells release special enzymes that open holes in the tumor cell's membrane. The cancer cell simply leaks to death.
The tumor cell's structual matrix is all that remains after its encounter with the natural killer cell which moves on to another cancer cell.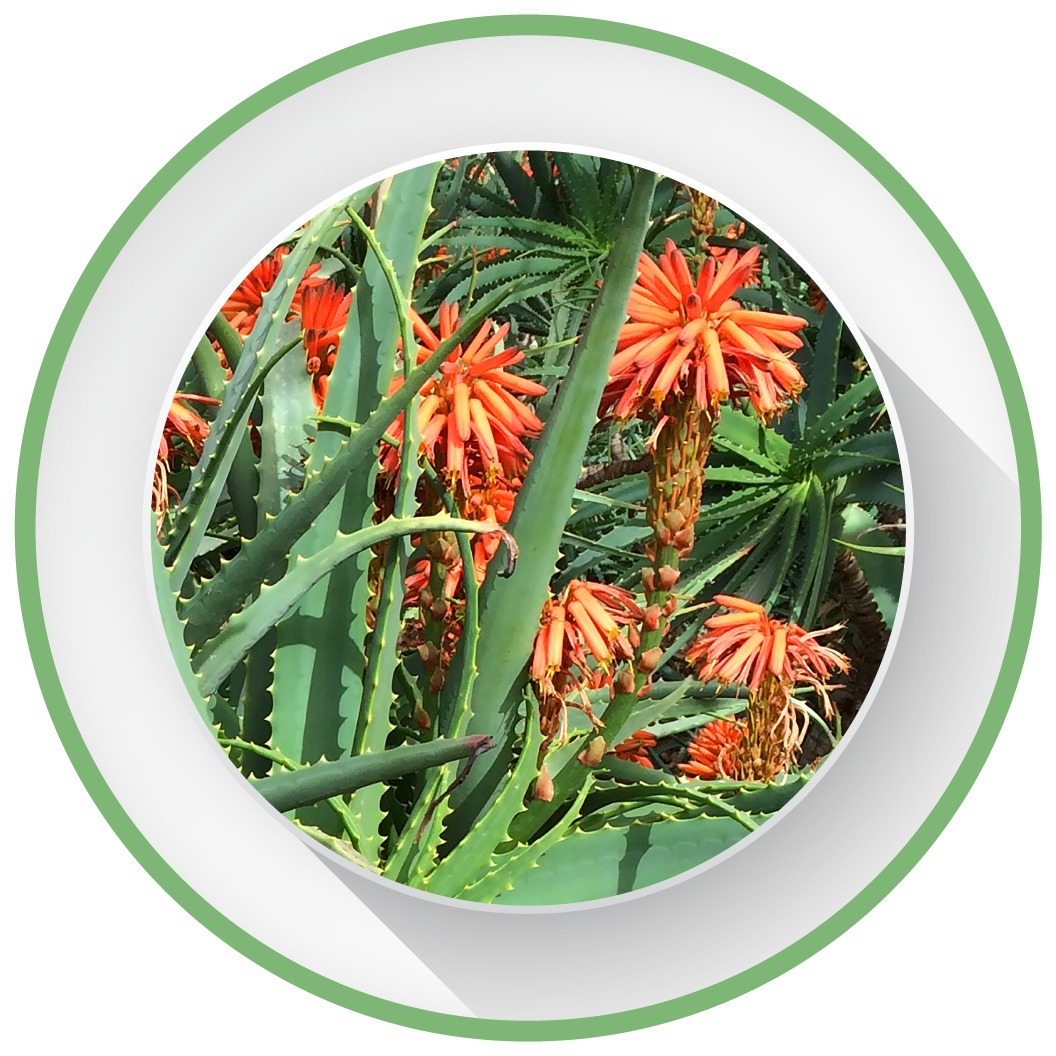 ALOE POLYSACCHARIDES
Aloe Polysaccharides (acemannan) stimulate and modulate the number and intensity of macrophage (natural killer cell (NK) activity of white blood cells) that ingest and destroy dysregulated aberrant cells.*
GLUCOMANNAN SACCHARIDES
Aloe plant Glucomannan saccharides activate immune response through the increased expression of defensive cytokines of interleukin-1, interleukin-6, INF and TNF.*
ALOE ANTHRAQUINONE
Aloe Anthraquinone constituents promote healthy blood and gentle whole-body cleansing of harmful
toxins and waste.*
DIGESTIVE NORMALIZATION
Aloe components stimulate intestinal motility to help normalize the function and structure of the gastrointestinal digestive system which reduces stress on the immune system.*
LEARN MORE ABOUT THE SCIENCE BEHIND ALOE ARBORESCENS
THE PERFECT DELIVERY SYSTEM
In addition to being the carrier that takes the Aloe nutrients to the remote parts of the body, raw honey also potentiates TNF activity.*
NUTRITIONAL PROTECTION
Honey protects the precious vital nutrients and medicinal properties in Aloe juice from air oxidation and gastric juices and allows them to be absorbed by the intestinal walls.*
ANTIBODY STIMULATION
The immunomodulatory and immune-protective activity of honey stimulates antibodies, B and T lymphocytes, neutrophils, monocytes, eosinophils, and natural killer cells (NK-cells) production.
CELL INHIBITION
Honey and its several components (like flavonoids and phenolics) are reported to mediate inhibition of dysregulated aberrant cell growth due to its perturbation of cell cycle.*
DISCOVER BETTER HEALTH FOR YOU AND YOUR FAMILY.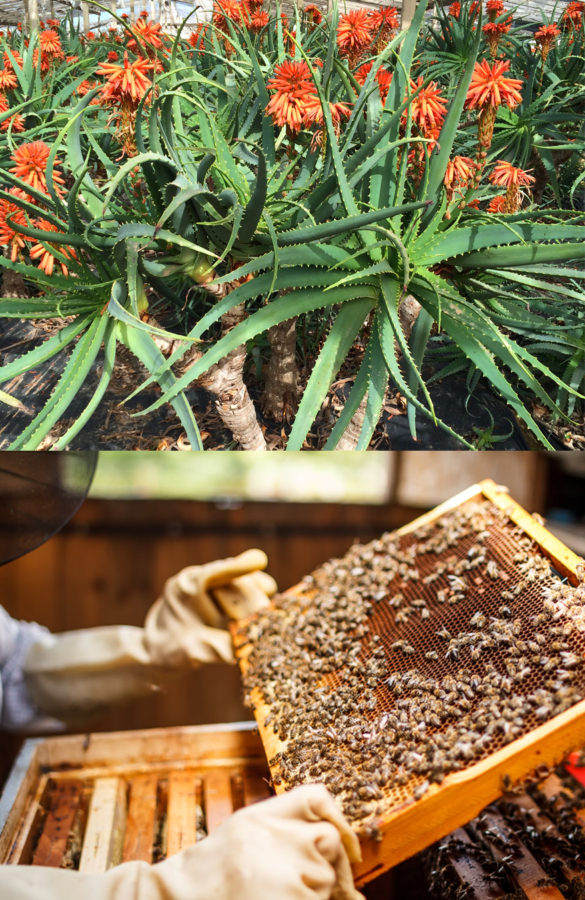 Our aloe juice is produced from 5-year-old Aloe arborescens plants harvested at the proper time, processed by the grinding the whole leaf into a liquid without heating, cold pressing or freeze-drying in order to retain all the active glucomannan polysaccharides.

In Aloe arborescens, you find an arsenal of natural compounds important and essential for maintaining healthy cellular function, such as phytonutrients and nutraceutical properties. Because of these medicinal properties, we use the entire leaf when making our formula.

The honey we use is raw and unpasteurized to ensure that all of the immune-boosting enzymes, minerals, and nutrients are still present and active. This makes it another important part of our potent formula. Product stabilization is achieved using natural preservations to preserve freshness and a one year shelf life.
WHAT DOCTORS ARE REPORTING
"The Supreme Immune Health Formula is a prominent natural nutriceutical supplement that can increase NK (natural killer) cell activity in the immune system so we recommend and sell it to people needing immune health support."
Dr. Steven Nemeroff, ND
Is an Oncologist and Health Advisor to Life
Extension Foundation. He has also written a
number of scientific ar ticles for the Foundation
"When put in the diet, initially phytonutrients synthesized in plant cells have no capacity to attack and destroy the threat to life until it is processed. Nutrition is thus not the treatment of disease. The body manages its own quest for defense and healing supported by ingredients in the diet."
H. Reginald McDaniel, M.D.
Has spent 30 years practicing anatomical and
clinical pathology and is the author of The
Molecular Biology of How Dietary Supplements
Support Optimal Human Health
Along with 6 other top scientists, Dr. Paolo Lissoni conducted a study using the traditional recipe with 240 test subjects. Half of them were given this remarkable recipe and the outcome was very beneficial. The results verified the recipe inhibits the proliferation of errant cells... exhibits immune-stimulating and antioxidant effects… enhances survival time... and reduces toxicities, as proven by radiological evaluations.*
Dr. Paolo Lissoni
World renowned oncologist Dr. Paolo Lissoni,
at the St. Gerardo Hospital in Milan, It aly,
division of oncology.
Dr. Nacci's research of the recipe found it, "normalizes the biochemical functioning of the body in 2 to 6 months. It sets off the Immune response, that is it induces the activation of the Natural Killer lymphocytes, of B Lymphocytes and of Killer lymphocytes thus reaching the full immune response (activation of monocytes, granulocytes). Aloe arborescens has a higher concentration of active principles, at least three times higher than other aloe species like Aloe vera. Honey is of primary importance because it carries the different immune-modulating substances of Aloe (Aloctin, Aloe-mannano, and Zinc) to the very delicate T gamma-delta lymphocytes." —Excerpt from "A Thousand Plants Against Cancer"
Dr. Giuseppe Nacci, M.D.
Is a distinguished pioneer of nuclear medicine
and author of "A Thousand Plants A gainst
Cancer" the winner of th e Austrian Prize, as
Best Scientific Book of the Year 2006.
SAVE EVEN MORE WITH AUTO - SHIP
AND GET AN ADDITIONAL DISCOUNT ON YOUR MONTHLY SUBSCRIPTION

Cancel Anytime.
This dietary supplement qualifies as a Medical Food under the Orphan Drug Act of 2005, for the dietary management of
medical conditions based on recognized scientific principles and medical evaluation. Ask your physician to recommend
the product as a Medical Food which is part of your therapy regime.