Thousands of Americans are Adding This "Secret Brazilian Recipe" to Their Daily Routine. Here's Why
Are you tired of feeling rundown and lacking energy?
ARE YOU LOOKING FOR A NATURAL WAY TO BOOST YOUR IMMUNE SYSTEM AND IMPROVE YOUR OVERALL HEALTH?
Many people are turning to natural supplements to help them feel their best, and with good reason.
Functional "superfoods" have been used for centuries in traditional medicine, but only recently have they gained popularity in the West. And for good reason – these "superfoods" are packed with healing properties that can help you clear mental fog, boost your immune system, improve your mood, improve skin, lower inflammation, improve digestion, and gently detoxify the entire body.
And the best way to boost your immune system comes down to two key ingredients: aloe and honey.
Deca Aloe's Supreme Immune Health Formula harnesses the power of two potent, botanically sourced ingredients – organic, whole leaf Aloe arborescens juice and raw, unprocessed honey – to provide an arsenal of phytonutrients, including mono- and polysaccharides, key minerals, essential vitamins, amino acids, enzymes, probiotics, and phenolic compounds.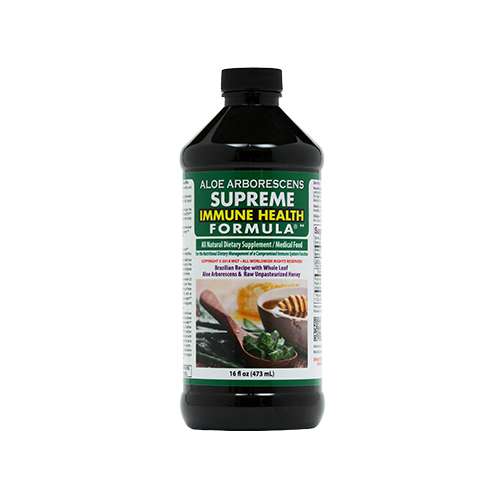 THIS TRADITIONAL, CENTURIES-OLD BRAZILIAN FORMULA REVITALIZES OVERALL HEALTH BY
Rejuvenating the immune system, improving digestive function, boosting cardiovascular performance, detoxifying cells, and cleansing the bloodstream. Numerous clinical studies show this formula can address acute health conditions, and is especially effective at relieving chronic symptoms associated with systemic inflammation.
Clinical studies have shown that this formula can help

Boost the body's immune system
Normalize digestive functions
Promote gentle detoxification
Support healthy blood sugar levels
Increase activity of white blood cells

Stimulate cellular metabolism
THE ALOE POLYSACCHARIDES STIMULATE AND MODULATE THE IMMUNE SYSTEM, TRIGGERING A CASCADE OF IMMUNE RESPONSES IN THE BODY.
The Aloe polysaccharides stimulate and modulate the immune system, triggering a cascade of immune responses in the body. Meanwhile, the anthraquinones in Aloe arborescens and the raw honey promote gentle, whole-body cleansing of harmful toxins and waste, stimulate antibody production, and inhibit dysregulated aberrant cell growth.
Aloe is known for its ability to boost the immune system, reduce inflammation, and support healthy digestion. It's also a rich source of antioxidants, which help to protect your body against damage from harmful free radicals.
Our formula contains 200mg of concentrated whole aloe leaf per serving, making it one of the most potent supplements on the market.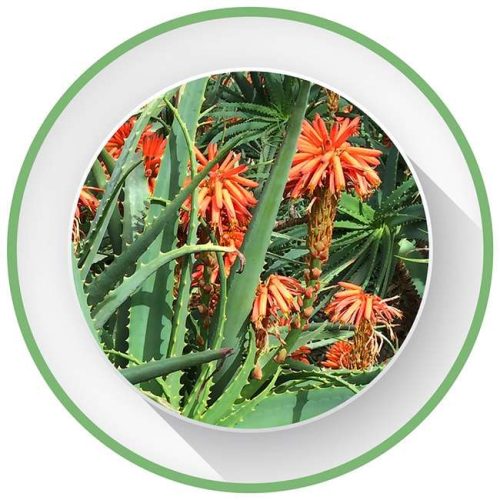 The formula is a nutraceutical dietary supplement that brings together in a proprietary blend the therapeutic properties of two potent ingredients of all natural Whole Leaf Aloe Arborescens liquid with pulp and raw, unheated and unpasteurized honey that provides powerful support for the immune system and helps maintain optimal health. Both ingredients are also known as super foods from nature. The formula also provides gentle cleansing of toxicity for the whole body.
In fact, physicians are authorized by federal law to recommend this formula as a medical food for the dietary management of medical conditions.
Our Supreme Immune Health Formula is carefully crafted to provide you with the perfect balance of these powerful natural ingredients. Each serving contains a precise blend of aloe and raw honey. Our formula is also free from artificial colors, flavors, and preservatives, making it a safe and effective choice for anyone looking to boost their immune system naturally.
But don't just take our word for it. Here's what some of our satisfied customers have to say:
I've been taking Deca Aloe's Supreme Immune Health Formula for a few months now, and I can honestly say that I haven't been sick since I started taking it. I used to get colds all the time, but now I feel like my immune system is stronger than ever.
I have been taking this product since my diagnosis of lung cancer six months ago. I have undergone eight chemo sessions and thirty seven radiation treatments. My blood tests always come back showing my immune system strong and I still have a full head of hair. This product does the job.
After taking one tablespoon of Aloe Arborescens for one month last year, my wife's intestinal disorder was cured. I now recommend it to patients with any kind of bowel issues, acute or chronic, and continue to get great results. Thanks for such a product that lives up to its story.
My 30-day Deca Aloe Supreme Immune Health Formula Experience
I started taking Deca Aloe's Supreme Immune Health Formula today. I am taking one tablespoon of the formula 2 to 3 times a day before meals. The taste is mild and not unpleasant. I am looking forward to seeing how it affects my overall health. I'll keep you posted on any changes I notice.
I haven't noticed any significant changes yet, but I do feel like I have a bit more energy in the mornings. I also haven't gotten sick this week, which is unusual for this time of year. I'm hoping this is a sign that the immune-boosting properties of the formula are starting to work.
I've been taking the Deca Aloe Supreme Immune Health Formula for two weeks now, and I have to say, I am impressed. My energy levels have improved, and I haven't had any cold or flu symptoms. I also noticed that my skin looks clearer and more radiant. I'm excited to see how my health continues to improve.
I had a stressful day at work today, but I noticed that I was able to handle it better than usual. I didn't feel as anxious or overwhelmed as I normally would. I'm wondering if the formula is helping to support my mental health as well.
It's been a month since I started taking the Deca Aloe Supreme Immune Health Formula, and I'm happy to report that I feel great. I haven't been sick at all, even though I've been around people who have been. My energy levels have improved, and I feel like my overall health has been boosted. I plan to continue taking the formula and would highly recommend it to others who are looking for a natural way to support their immune system.
Deca Aloe's Supreme Immune Health Formula has been an incredible addition to my daily routine. I have noticed a significant improvement in my overall well-being, energy levels, and immune system function. It's amazing to see how natural ingredients like aloe and honey can work together to provide such powerful health benefits.
I appreciate that Deca Aloe's formula is made with all-natural ingredients. It's reassuring to know that I am nourishing my body with wholesome ingredients that are scientifically proven to achieve results.
Taking one tablespoon 2 to 3 times a day before meals has been an easy and convenient way to incorporate this formula into my daily routine.
It's easy to mix into my morning smoothie or simply take it straight up. I appreciate that the formula has a pleasant taste and doesn't leave any unpleasant aftertaste.
Get ready to experience the incredible benefits of Aloe Arborescens and Raw Honey with Deca Aloe's Supreme Immune Health Formula.
With a powerful blend of these two natural ingredients, you'll be able to boost your immune system, improve your digestive health, reduce inflammation, and gently detoxify the entire body.
And with our commitment to using only 100% real Aloe Arborescens and Raw Honey with no fillers, you can trust that you're getting the highest quality product available.
But don't wait too long – as the word gets out about the power of these natural ingredients, our stock is sure to sell out fast. So order now to ensure you can enjoy the benefits of Deca Aloe's Supreme Immune Health Formula for yourself. Plus, with our 100% satisfaction guarantee, you can try it risk-free. Click the button below to order now!
Aloe Arborescens Supreme Immune Health Formula FREE SHIPPING
Aloe Arborescens Supreme Immune Health Formula FREE SHIPPING