SUPREME IMMUNE HEALTH FORMULA™
The immune system is the answer to disease™
Made using the same internationally acclaimed Brazilian recipe discovered by Father Romano Zago, Deca Aloe's Supreme Immune Health Formula™ is a powerful medical food nutritional supplement that brings together the therapeutic properties of two potent ingredients: organic whole leaf Aloe arborescens juice and raw natural honey. Together these two ingredients provide an arsenal of phytonutrient compounds such as Polysaccharides (Acemannan) and Anthraquinones like Aloe-emodin that are essential for the fortification and rejuvenation of optimal Immune system function.
SUPREME HONEYBEE POLLEN
Complete natural nutrition in a tiny package
Our high-quality pollen is sourced from U.S. bees. Many bee pollen supplements and products sold in the world and US come from China. Most of these pollens (often bread in batches and stored) have actually been found to be contaminated with outside pollutants. The company we source our pollen from takes pride in their pure bee pollen and guarantees no off-shore fillers and/or ingredients in their product. The bee pollen is collected from a pristine environment in rural farm land areas without any contaminants and no industrial factories nearby.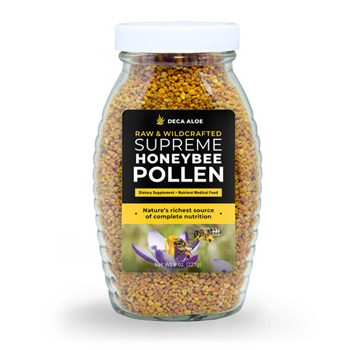 SAVE EVEN MORE WITH AUTO-SHIP
AND GET AN ADDITIONAL DISCOUNT ON YOUR MONTHLY SHIPMENT