SAVE EVEN MORE WITH AUTO-SHIP
AND GET AN ADDITIONAL DISCOUNT ON MONTHLY SHIPMENTS
Plus Save an additional 25% on your first month
Valid on new auto – ship orders. 90 day minimum subscription
POTENT INGREDIENTS REVITALIZE A COMPROMISED IMMUNE SYSTEM.
Deca Aloe's Supreme Immune Formula™ is a dynamic medicinal food grade supplement that relies on two powerhouse ingredients from nature: rare Aloe arborescens, and raw honey. It's based on a traditional Brazilian recipe used successfully, without side effects, for centuries.
Combined, these two nutrients offer an arsenal of phytonutrients and antioxidants. Both fortify and rejuvenate the body's immune system.
When restored to optimal function, the body is better equipped to defend against many of today's modern, chronic ailments. Everyone's goal!
Deca Aloe's rare Aloe juice comes from mature, five-year old plants, grown in pristine conditions in a remote area of Italy. It's processed exclusively through grinding the whole leaf to preserve the active medicinal compounds (not cold pressed or freeze dried).
The raw honey is collected from equally remote locations in the United States. Unfiltered and unpasteurized, it offers the maximum potency of antioxidants and vital nutrients.
PROVEN IN CLINICAL STUDIES TO HELP:
Boost the body's immune system
Promote gentle detoxification
Increase activity of white blood cells
Normalize digestive functions
Support healthy blood sugar levels
Stimulate cellular metabolism
THE SYNERGISTIC BENEFIT OF UNIQUE MEDICINAL COMPOUNDS
ALOE POLYSACCHARIDES
Aloe Polysaccharides (acemannan) stimulate and modulate the number and intensity of macrophage (natural killer cell (NK) activity of white blood cells) that ingest and destroy dysregulated aberrant cells.*
GLUCOMANNAN SACCHARIDES
Aloe plant Glucomannan saccharides activate immune response through the increased expression of defensive cytokines of interleukin-1, interleukin-6, INF and TNF.*
DIGESTIVE NORMALIZATION
Aloe components stimulate intestinal motility to help normalize the function and structure of the gastrointestinal digestive system which reduces stress on the immune system.*
ALOE ANTHRAQUINONE
Aloe Anthraquinone constituents promote healthy blood and gentle whole-body cleansing of harmful
toxins and waste.*
THE PERFECT DELIVERY SYSTEM
In addition to being the carrier that takes the Aloe nutrients to the remote parts of the body, raw honey also potentiates TNF activity.*
NUTRITIONAL PROTECTION
Honey protects the precious vital nutrients and medicinal properties in Aloe juice from air oxidation and gastric juices and allows them to be absorbed by the intestinal walls.*
ANTIBODY STIMULATION
The immunomodulatory and immune-protective activity of honey stimulates antibodies, B and T lymphocytes, neutrophils, monocytes, eosinophils, and natural killer cells (NK-cells) production.
CELL INHIBITION
Honey and its several components (like flavonoids and phenolics) are reported to mediate inhibition of dysregulated aberrant cell growth due to its perturbation of cell cycle.*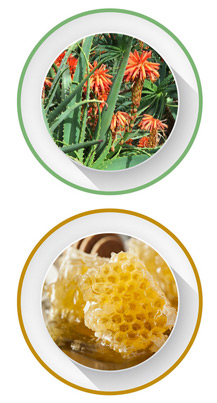 HIGHEST QUALITY, MINIMALLY PROCESSED
This aloe juice is produced from five-year-old Aloe arborescens plants harvested at the peak of maturity, processed by grinding the whole leaf to preserve delicate medicinal compounds.
This rare aloe provides an arsenal of natural compounds essential to maintaining healthy cellular function throughout the body.
The raw honey is unpasteurized to ensure that all of the immune-boosting enzymes, minerals and nutrients remain active. Honey speeds these vital nutrients to each and every cell, contributing to improved metabolic function.
PRODUCT LABEL AND SUPPLEMENT FACTS
Click image to view larger.