ALOE ARBORESCENS FOR SALE
The Superme Immune Health Formula™ contians critical phytonutrients that stimulate your immune system.
Product Details
Deca Aloe's Supreme Immune Health FormulaTM is a powerful medical food nutritional supplement that brings together the therapeutic properties of two potent ingredients: organic whole leaf Aloe arborescens juice and raw natural honey. The Supreme Immune Health FormulaTM is made using the Brazilian recipe internationally acclaimed by Father Romano Zago. This Brazilian recipe consists of whole leaf Aloe arborescens liquid and unheated raw honey. Together these two ingredients provide an arsenal of phytonutrient compounds such as Polysaccharides (Acemannan) and Anthraquinones like Aloe-emodin that are essential for the fortification and rejuvenation of optimal Immune system function. The product aids the body's defenses by supplying supreme immune support and general cleansing for the whole body for those who want to achieve optimal health and increase energy and vitality.
Our Aloe is produced from 5-year old Italian Aloe arborescens plants harvested at the proper time, processed by grinding the whole leaf without heating, cold pressing or freeze-drying in order to retain all the active glucomannan polysaccharides (4%), such as mannose (2 ml per serving) to guarantee maximum effectiveness in immune system support.* It also contains unheated, raw, pesticide-free honey (6.4 g per serving) and 1% certified organic alcohol for the purest and most effective absorption when taken short or long term.
Reviews
Note:  Testimonials or reviews on this page represent a cross-section of the range of results that appear to be typical with these products. Results may vary depending upon use and commitment. Statements made within are by third-party individuals and do not reflect any health claims by AloeProductsCenter.com, Deca Aloe Arborescens, or its affiliates.
PROVEN IN STUDIES TO HELP:
Boost the body's immune system
Promote gentle detoxification
Bolster activity of white blood cells
Normalize digestive functions
Support healthy blood sugar levels
Stimulate cellular metabolism
ALOE POLYSACCHARIDES
Aloe Polysaccharides (acemannan) stimulate
and modulate the number and intensity of macrophage (natural killer cell (NK) activity of white blood cells) that ingest and destroy dysregulated aberrant cells.*
GLUCOMANNAN SACCHARIDES
Aloe plant Glucomannan saccharides activate immune response through the increased expression of defensive cytokines of interleukin-1, interleukin-6, INF and TNF.*
ALOE ANTHRAQUINONE
Aloe Anthraquinone constituents promote healthy blood and gentle whole-body cleansing of harmful toxins and waste.*
DIGESTIVE NORMALIZATION
Aloe components stimulate intestinal motility to help normalize the function and structure of the gastrointestinal digestive system which reduces
stress on the immune System.*
NATURAL DELIVERY SYSTEM
In addition to being the carrier that takes the Aloe nutrients to the remote parts of the body, raw honey also potentiates TNF activity.*
NUTRITIONAL PROTECTION
Honey protects the precious vital nutrients and medicinal properties in Aloe juice from air oxidation and gastric juices and allows them to be absorbed by the intestinal walls.*
ANTIBODY STIMULATION
The immunomodulatory and immune-protective activity of honey stimulates antibodies, B and T lymphocytes, neutrophils, monocytes, eosinophils, and natural killer cells (NK-cells) production.
CELL INHIBITION
Honey and its several components (like flavonoids and phenolics) are reported to mediate inhibition of dysregulated aberrant cell growth due to its perturbation of cell cycle.*
SAVE EVEN MORE WITH AUTO - SHIP
AND GET AN ADDITIONAL DISCOUNT ON YOUR MONTHLY SUBSCRIPTION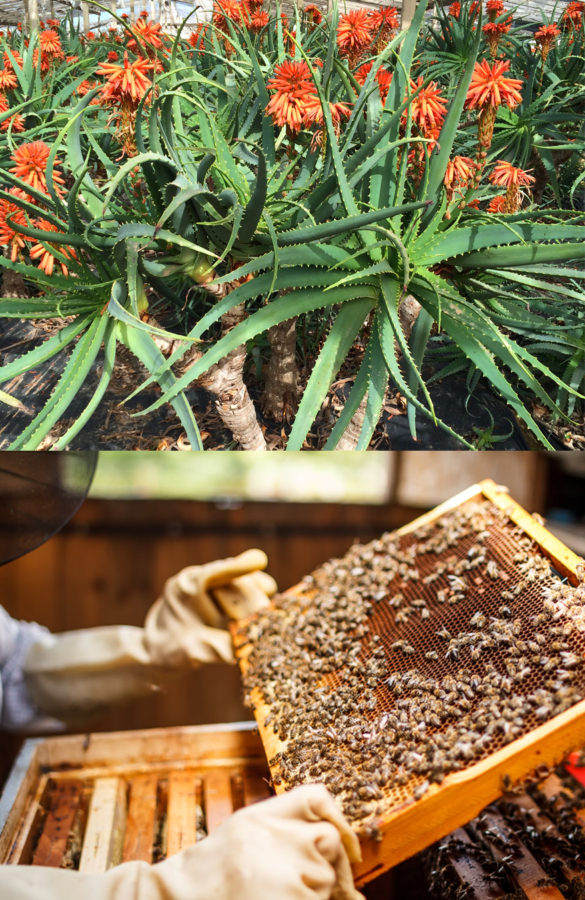 Our aloe juice is produced from 5-year-old Aloe arborescens plants harvested at the proper time, processed by the grinding the whole leaf into a liquid without heating, cold pressing or freeze-drying in order to retain all the active glucomannan polysaccharides.

In Aloe arborescens, you find an arsenal of natural compounds important and essential for maintaining healthy cellular function, such as phytonutrients and nutraceutical properties. Because of these medicinal properties, we use the entire leaf when making our formula.

The honey we use is raw and unpasteurized to ensure that all of the immune-boosting enzymes, minerals, and nutrients are still present and active. This makes it another important part of our potent formula. Product stabilization is achieved using natural preservations to preserve freshness and a one year shelf life.
This dietary supplement qualifies as a Medical Food under the Orphan Drug Act of 2005, for the dietary management of
medical conditions based on recognized scientific principles and medical evaluation. Ask your physician to recommend
the product as a Medical Food which is part of your therapy regime.