Add this "30 Second Hack" to your Morning Routine to promote better digestion, healthy cellular functioning, and longevity
The Real Fountain Of Health & Life Support
A Revolutionary Blend of TWO Powerhouse Health Ingredients that Rejuvenate your Immune Health and Helps Cleanse your Body of Toxins and Pathogens
ALOE + Raw Unpasteurized HONEY = A Healthier & Longer Life.
Proven in Studies to Help:
The Supreme Immune Health Formula™ is Vital For Your Health
Deca Aloe's Supreme Immune Health Formula™ is a powerful nutraceutical dietary supplement that relies on two potent, botanically sourced ingredients: organic, whole leaf Aloe arborescens, and raw, unprocessed honey. Combined, these ingredients provide an arsenal of phytonutrients, including mono- and polysaccharides, key minerals, essential vitamins, amino acids, enzymes, probiotics, and phenolic compounds.
This traditional, centuries-old Brazilian formula revitalizes overall health by rejuvenating the immune system, improving digestive function, boosting cardiovascular performance, detoxifying cells, and cleansing the bloodstream. Numerous clinical studies show this formula can address acute health conditions, and is especially effective at relieving chronic symptoms associated
with systemic inflammation.
Powerhouse Health Ingredient #1
Powerhouse Health Ingredient #2:
The Supreme Immune Health Formula Contains Clinically Proven Ingredients to Jump Start your Body's Natural Protection Against Disease and Toxins
Aloe Arborescens is Changing the Lives of People Just Like You
I purchased the Aloe product formula and gave it to both my family member and friend. I am very happy to say that the change in the way they felt and look improved rapidly.
When my mother in law of 75+ years reported dramatic relief in just 2-3 weeks from her age old persistent ailments . . . I've become a lifelong fan of this product.
Aloe Arborescens Supreme Immune Health Formula™ has been an awesome addition to our balanced protocol for our 4-year old son Ryder's recovery from a life threatening health condition. Perhaps what we love most about this mixture for Ryder . . . is that it's delicious!
Healthcare Practitioners Across the World Share Their Experiences
World renowned Oncologist, Dr. Paolo Lissoni, at the St. Gerardo Hospital in Milan, Italy, division of oncology, along with six other top scientists, conducted a study using the traditional recipe as a nutritional adjunct to chemotherapy with 240 test subjects:
Half were given this remarkable recipe and the outcome was very beneficial. The results verified the recipe helps modulate the proliferation of aberrant dysregulated cells, exhibits immune-stimulating and antioxidant effects . . . enhances survival time . . . and reduces toxicities, as proven by radiological evaluations.
The Aloe Arborescens remedy is unmatched in its potency to provide the human body with the complete spectrum of phytonutrient and nutraceutical properties that are needed to support a healthy immune system, while gently eliminating waste. This returns the body to a normal state of structure and function.
This is the most potent health-promoting supplement I have ever discovered for patient care.
Supreme Immune Health Formula™ normalized the biochemical function of the body in 2 to 6 months.
Aloe's Product for Your Health
Place your order today.
Big savings on bundles and subscriptions.
Place your order today. Big savings on bundles and subscriptions.
SAVE 10% & FREE SHIPPING*
SAVE 20% & FREE SHIPPING*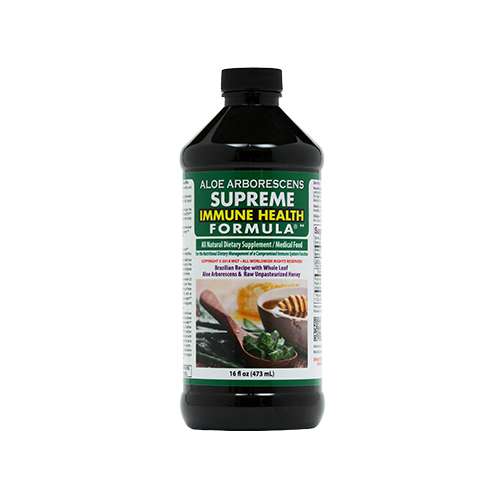 Aloe Arborescens Supreme Immune Health Formula FREE SHIPPING
Aloe Arborescens Supreme Immune Health Formula 4 BOTTLES
Aloe Arborescens Supreme Immune Health Formula 6 BOTTLES